These are A Few of My Favorite Things, a new series that sheds some light on, well, my favorite items throughout my home.
(
To read through all posts in the series, click here.
)
In this Kitchen Tools & Gadgets Edition, I'll be looking at five different tools and gadgets that I use over and over again in my kitchen.
They're ones that have proven to be totally utilitarian, help simplify my routine and keep things running in this little kitchen of mine.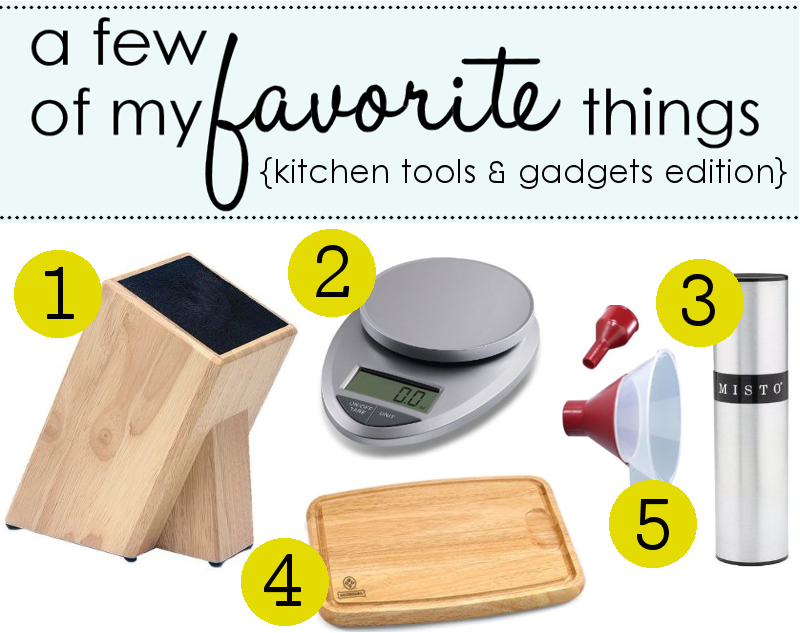 Here's a little bit more about each product and why it's become essential to my kitchen:
1. Kapoosh knife holder
:
I already mentioned
my Kapoosh knife holder that I found at a local thrift shop
. Once I ran the spokes through the dishwasher, it was like new! I must say, I absolutely love having this, because I can accessorize it with just the exact knives that I need, rather than the knives that the manufacturer thinks I should have. Since purchasing it, I've picked up a new
bread knife
,
chef's knife
and
paring knife
. These three are the heavy-hitters in my kitchen nowadays and make slicing and dicing a breeze!
2. Digital Kitchen Scale
:
I put off buying a scale for awhile but now I use it quite often, especially when I'm altering recipes or even just wanting to mail a package and know how much it weighs! This one is handy because you can also put a dish on it and zero out the dish's weight so that you're only weighing the food you put into it.
3. Misto
:
I wanted to get away from using aerosol spray cooking oils, and discovered the Misto, which is a manual, natural alternative. Basically, you pour whatever oils you want into the container, and then pump the top up and down to build air pressure in the canister, which then allows you to spray the oil evenly. I use this whenever I'm sauteeing or even to coat the inside of my bread pan. (Try it if you decide to make my
Easy, Cheesy Spaghetti Casserole
recipe!) Plus, it really cuts down on how much oil you use. I bought this a couple months ago and still haven't had to add oil to the container since then!
4. Small wooden cutting board
:
We originally got a large plastic cutting board, but I found that having a smaller one has been so much handier and less of a chore to clean. I just keep it on my countertop all the time, for easy access, and then chip-chop away! (Note that this is similar to my cutting board, but mine is a no-name brand. It's roughly the same size, which is what matters most to me!)
5. Adjustable funnel
:
Ah, finally having a funnel. Before buying this handy convertible funnel, I ended up crafting ones out of leftover cereal boxes or sheets of paper. Needless to say, this is quite the improvement! Plus, I love that all three pieces fit together, depending on how large or small of a funnel-mouth you need to use. I was hoping to find a funnel that was metal rather than plastic, but I never had any luck.
P.S. Unless otherwise stated, all items pictured and linked are the exact version I've come to love!